Multi-Plex Cytokine Bead Assays for Flow Cytometry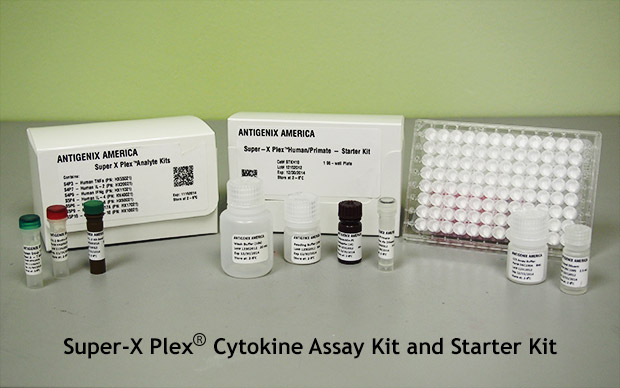 Super-X Plex© Cytokine Kits for
Flow Cytometry
Measure cytokines in single assays or multi-plex panels for human, mouse, rat, primate and canine models
Luminex© correlation data and standard curves

Click Here for Super-X Plex® Protocol
Product Info and ORDERING STRATEGY
FOR USE WITH ANY Flow Cytometry System with 488nm Laser
Select Multiplex panel analytes from within each group
Or Multiplex ACROSS GROUPS with custom design by our lab
Assay Performance / Characteristics:
Non-magnetic Multi-Plex Bead Assays

Assay uses antibody coated beads, Biotin Detection antibodies, 96 well filter plate, and R-PE signal for analysis.

Sensitivity less than 10.0 pg/mL for most assays!

Sample Types: Use Serum/Plasma, Cell Culture Fluid, Cell Lysate, or other biological fluids.

High correlation with Luminex® assays

Assay Time approx. 2 hours!

Precision: Intra-Assay CV: <10% ; Inter-Assay < 20%

Sample Volume: 15.0 uL

No measurable X-reactivity within each panel.

Multi-Plex: Customer can create own panels within each Group - up to 24-Plex! Many pre-made panels available - Human, Mouse, Rat, Primate and Canine Models. Custom multiplex panels can be built across groups by ANTIGENIX laboratory - Contact us

Standards are Pre-Mixed for most assays ( Both Individual and Panels) to facilitate fast and easy plate prep.
A) SINGLE-Plex Assays:
Each Single-Plex Assay Contains:
Antibody Coated Beads

Detection Antibody

Standard

Mix and Match one or more Individual Assays from a given Group to Build your own custom panel!

Each Individual Assay Within Each Group Occupies a Unique Bead Region for Analysis

Each assay sufficient for 96 wells

Most Standards are provided as Pre-Mixed standard panels ( 6 or mare standards in single vial) - for easy and quick plate preparation

Assays can be Multi-Plexed across panels - CONTACT Tech Support for suitability

Order a STARTER Kit ( 96 tests) and a SAMPLE DILUENT Kit to match sample type and Species of Samples.

Also Available: SAMPLE Dilution Buffer ( for Dilution of High concentration samples) and Cell Lysate Prep Buffer
B) STARTER Kit: ( 96 tests) - Select for Sample Species Type
Contents:
Reading Buffer (10X) 5.0 mL

Wash Buffer (10X) 20.0 mL

Filter Plate ( 1) and Plate Seals (6)

PCR 8-tube strip (2)

Detection Antibody Diluent 1.0 mL

Streptavidin-PE conjugate 3.0 mL
SELECT STARTER Kit:
C) SAMPLE DILUENT Kits - ( Select for Sample Type and Species)
Contents:
Standard Diluent ( 2.5 mL)

Sample Assay Buffer ( 8.0 mL)
| | |
| --- | --- |
| Description | Cat No: |
| Human / Primate : Serum/Plasma Diluent Kit | DKH100 |
| Mouse / Rat : Serum/Plasma Diluent Kit | DKM100 |
| Canine : Serum/Plasma Diluent Kit | DKCN10 |
| Cell Culture Supernatant Diluent Kit | DKC100 |
| Cell Lysate Diluent Kit | DKL100 |
| Cell Lysate Prep Buffer ( 50mL) | CLP200 |
| Sample Dilution Buffer ( 100 mL) | SDL200 |
D) MULTI-Plex Panels:
Starter Kit included ( No need to order the Starter Kit for the MultiľPlex panels)
Each Multi-Plex Panel Kit contains:
Multi-plex Antibody Coated beads

Pre-Mixed Detection Antibodies

Pre-Mixed Antigen Standards

Complete Starter Kit with: Filter plate, Wash and Reading Buffers, PE-conjugate, PCR 8 tube strip.

Detection Antibody Diluent ( matched to Sample Species).
** No need to order separate Starter Kit -
** Order a Sample Diluent Kit to match Species and Sample Type Used
Extra Set of Pre-Mixed Standards are available, if needed - order as separate item.
E) Materials Required / Not Supplied to run the Super-X Plex« Flow Cytometry Assays:
Starter Kit included ( No need to order the Starter Kit for the MultiľPlex panels)
Each Multi-Plex Panel Kit contains:
Flow Cytometer with 488 nm Laser

Plate Shaker for 96-well filter plates

Vacuum plate washer ( optional ) See available ANTIGENIX catalog number FPW100
CONTACT our tech Support with any Ordering Questions