Home
>
New and Noteworthy
New and Noteworthy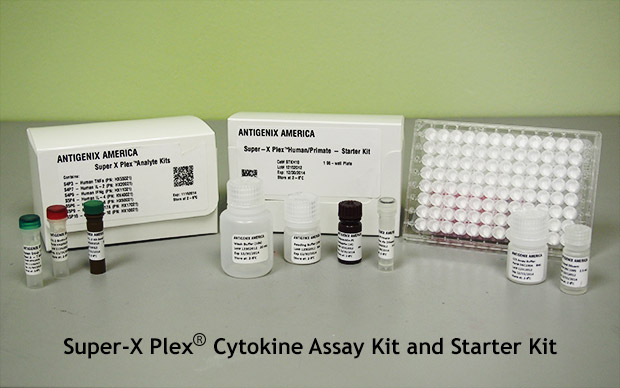 SUPER-X PLEX® Flow Cytometry Cytokine Assays
FOR USE WITH ANY Flow Cytometry System with 488nm Laser
Assay Performance / Characteristics
Assay uses antibody coated beads, Biotin Detection antibodies, 96 well filter plate, and R-PE signal for analysis.
Sensitivity less than 10.0 pg/mL for most assays!
Sample Types: Use Serum/Plasma, Cell Culture Fluid, Cell Lysate, or other biological fluids.
Assay Time approx. 2 hours!
Precision: Intra-Assay CV: <10% ; Inter-Assay < 20%
Sample Volume: 15.0 uL
No measurable X-reactivity within each panel.
Multi-Plex: Customer can create own panels within each Group - up to 24-Plex!
Many pre-made panels available - Human, Mouse, Rat, Primate and Canine Models. Custom made panels also available- built and tested in ANTIGENIX laboratory.
Standards are Pre-Mixed for most assays ( Both Individual and Panels) to facilitate fast and easy plate prep.
Mix and Match one or more Individual Assays from a given Group to Build your own custom panel!
Most standards are provided as Pre-Mixed standard panels (6 or more standard vials in a single vial) - for easy and quick plate preparation
See website for wide selection available.
CONTACT our tech Support with any Ordering Questions
---
DISCOVER OUR
Cytokine ELISA Construction Kits
Our Cytokine ELISA Construction Kits are
available in 3 Versions ( approx. 960 tests ):
Basic Kit, includes: antibody pair and standard, $490.
( catalog # ends in "CK" )
Basic Kit with developing reagents, includes: proprietary blocking /coating stabilizer,
wash buffer, streptavidin HRP and TMB substrate solution, $640.
( catalog # ends in "CKC" )
And our NEWEST FORMAT, Basic Kit with above developing reagents and 5 plates
(96 well), $690.
( catalog # ends in "CKP" )
Plates also available separately, EA500 ( 5 x 96 )
Each kit is sufficient for approximately 10 microplates ( 96 well plates)